PTFA
The pledge of the PTFA is that every penny raised will go directly back into school to benefit your children over the next few years. We have made contributions to the LRC, the Performing Arts Department, Geography, Special Educational Needs, the Information Technology Department, the PE Department and significant sponsorship towards our Sports Day.
Although many fund raising events take place each year the most significant has been our PTFA Ball which takes place at Leyland Golf Club on during each year. This proved to be a wonderful evening for parents, guests and staff, raising over £3000 for the pupils. Members of the Jazz Band entertained guests on arrival and throughout the drinks reception. The Inaugural Ball was so successful that it is now an annual event.
200 Club
The Friends of All Hallows operates a 200 club and it is a key part of the PTFA's commitment to provide funding for a number of projects in school. During 2015/16 the 200 club has raised over £590 to support the children and has given out over £700 in prize money.
The 200 club will continue in 2016/17 and I would like to take this opportunity to invite you to apply for membership.  This is a simple process and only entails you completing the application form and enclosing a cheque for £10 to cover the 2016/17 year of membership.  Confirmation of your membership number(s) will then be issued.
Every month, for 10 months, there will be a draw resulting in three prize winners, 1st £40, 2nd £20 and third £10.  The first draw for 2016/17 will be in October and details of the monthly draw winners will be included in the weekly newsletter. The more members we have the more money we raise, you can apply for a maximum of two numbers each year.
Download 2017 new members form
Spring Ball 2017
All images from the Spring Ball held in May are now online at: http://www.lifestylefoto.com/client-login/  The password is:  all hallows and also http://www.ctp-gallery.co.uk/AH-170428/
Please come and join us at our next PTFA meeting.
PTFA SCHOOL BURSARIES
The PTFA at All Hallows is committed to supporting young people involved in excellence outside the curriculum. To this end we offer every year a series of bursaries to pupils from the school who are involved in activities we feel it appropriate to support. These activities typically will see pupils enhancing the school's reputation when taking part in things such as representing their county at sport, excellence in the field of performing arts or any other activities outside the curriculum which parents may wish us to consider supporting.
The PTFA will support families who they feel meet those criteria. Families may only benefit once from PTFA bursaries.
For school year 2016/2017 bursary applications should be made in writing to the Chair of the PTFA, Mrs Naylor at All Hallows School by the end of January or by the end of April 2017. The PTFA will consider bursary applications at their meeting at the start of February and May 2016. Parents will be informed, in writing, if they have been successful in being given such a bursary.
We hope in this way parents will see that the PTFA is committed to supporting our youngsters in whatever ways we can to encourage them to take part in activities from which they gain unique experiences.
PTFA Committee 2017-2018
Mrs Karen Trafford –  Chair
Mrs Helen McCann –  Vice-Chair
Mrs Karen Corbishley – Treasurer
Mrs Helen Thompson – Secretary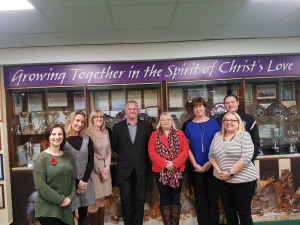 We wish the new committee every success in the year ahead, we also thank the outgoing committee and especially our outgoing Chair, Mrs Adrienne Naylor, who has been on the PTFA for over 20 years.
A photo of the new committee will follow shortly.
How can you support your PTFA
If you would like to help the PTFA, please come along to the next meeting, which takes place in the headteacher's office at 6.30pm on Tuesday 10th October 2017
The winner this month of the 200 club is announced in the weekly newsletter.
Buy your tickets for the PTFA Ball – Please see above
Fundraising at All Hallows: Choose to support the FOAH and please buy your Christmas presents and weekly shops online at www.easyfundraising.org.uk. You won't spend a penny extra. It is free to register (you only need your e-mail address and name). The school receives a donation every time you access your normal store. Do your weekly shopping at stores such as Tesco and Christmas shopping at stores such as Argos, Next, Amazon and 2500 other websites.  To date we have raised over £250 – thank you for your support!