11th November 2019
Remembrance Sunday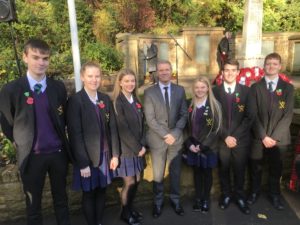 On Sunday 10th November, Mr Horrocks and a number of our senior pupils, attended a special Mass at St Teresa's Church to commemorate those lives lost in armed conflict.
Following the 9.30 a.m. service, during which wreaths were blessed, a procession took place to the Penwortham Cenotaph where a further short service took place.
Senior pupils laid a wreath on behalf of the All Hallows community and the names of the fallen were be read out by our pupils and pupils from our local high schools.