Staff Remote Access
Remote Access Login Help sheet
Below is a breakdown of the steps you will need to take when accessing the remote desktop feature either with your classes or from home on your personal computer.
1. Firstly you will need to open up Internet Explorer/Chrome and in the URL search bar at the top of the page you must enter the following, https://remote.allhallows.lancs.sch.uk
2. You will then be redirected to a page identical to the page shown below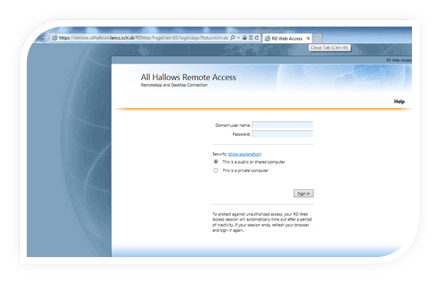 3. Next you must enter your login details. However, when entering the username that you would normally use to login to the school network you must remember to add allhallows\ to the start.
For example, if the username was rad then your username for the remote desktop would be allhallows\rad. Following this, enter the password that you would normally use to access the school network.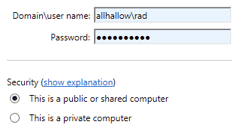 4. Once you have entered these details you will be logged into the All Hallows Remote Access and will be presented with the options below.

If you wish to access Sims, Pars, Microsoft Word, Publisher, Powerpoint or excel then you will need to SINGLE click on one of the corresponding icons on the same page as the "Remote Desktop" the programs will then be opened for you to use without having to have the software installed on your home computer. You can use the File – Open function to open documents stored on the school system.
To log into the school network from home you will need to select the "All Hallows Catholic High School" option and then wait for a dialog box to appear where you will have to select "Connect".