24th March 2017
Megan Holmes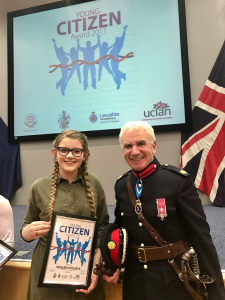 Congratulations to Megan Holmes, 8 Francis, who has been awarded second place for the High Sheriff of Lancashire Young Citizen Award.
Below is the text of her nomination, put forward by Mrs D'Arcy, Year 8 Learning Manager, and Dan, School Chaplain:
One evening, as she was out Christmas shopping with her mum, Megan (aged 12) noticed the high number of people who were spending the cold winter night on the streets of Preston. She was upset by this and was urged to take action. She immediately went home and researched more about homelessness and the problems faced by people every day on the streets of our own neighbourhoods. Megan wanted to help in a very practical way, so she found out what items might be needed by somebody on the streets, such as hats, gloves, socks, toiletries, foil blankets etc. and decided to put them all in a waterproof bag…so the Hope Bag was born! The idea is that these drawstring bags are sold to the public, who can then hand it to somebody they encounter on the street. The aim is to give practical help, but also to restore that person's dignity and bring a smile to their face, when they are so often ignored and scorned by so many.
With the amazing support of Megan's church, Longton Community Church, Hope Bags became somewhat of an overnight sensation! Megan was invited to speak at church events, school events, and her fundraising efforts caught the attention of a number of local businesses, who have pledged their support. The local press caught on to the project, and since then sales of Hope Bags have steadily increased. The project has resulted in Hope Bags being distributed not only in Preston, but in other local towns and cities, such as Manchester and Southport, with the hope that one day a Hope Bag will find its way to London and even abroad!
Apart from the practical help offered by the Hope Bag project, Megan's initiative has been an inspiration to us all here at All Hallows. At the beginning of the school year Megan spoke in front of the entire school in assembly, which took the theme of 'Be the face of mercy'. As a Catholic school we have been marking the special Jubilee Year of Mercy, in which Pope Francis has encouraged us to rediscover what it means to be merciful to others in our daily lives. Megan provided us with the perfect example of how our simple acts of kindness and concern for our fellow brothers and sisters can really go a long way. In a world which can so often be deeply divided, Megan's project encourages to re-connect with each other, to remember the dignity of each human being, and build a civilisation of love by playing a full and active role in our local communities and by serving those who need our help the most. It is so encouraging to know that young people like Megan exist to challenge situations of injustice and inequality, striving to build a better future for all.